Regular guest columnist Anne Doyle wrote this post for International Women's Day, but it applies every day. It reminds me about how important symbols are, and is a great example of what I call "Sister Courage"–be a sister, have courage, and work together like a movement with sister courage. Here's the link to the original on Anne's website if you want to connect with her there. I'm so proud of Anne for running for city council (and winning!), as well as admiring her leadership ideas.
Nearly two years ago, just before I was to give a speech before a group of Michigan businesspeople, I met a woman who was wearing a very unusual, intriguing pin.   I complimented her on it and she told me how much she loved it.
After my speech, the same woman came up to me, handed me the pin and told me she wanted me to have it.   "Oh no, I couldn't take your pin.  I know it's very special to you."  She insisted, but told me there was a string attached to her gift.  "You must promise me that one day you will give this pin to another woman," she said.  "I am giving it to you with the understanding that you will pass it forward."  "How long can I keep it?" I asked her.  She simply said, "You will know when it's time to pass the pin and its power forward."
There is something almost magical about the pin, and I've loved it.  Every time I put it on, I felt empowered by the woman who gave it to me. But as much as I hated to give it up, I have known for weeks that the time had come.  I also knew exactly to whom the pin should go next.  I just hadn't found the right moment to present it to her.
That moment came this past Friday at a breakfast gathering of the Michigan Women Officials Network.  WON, as we call ourselves, is a non-partisan group of women elected officials, judges, public commission appointees and people committed to increasing the number of women in elected office.    The woman I had in mind would be there.   Blanca Fauble is a very special friend who insisted on taking over as my Campaign Manager when I ran for my first political office last fall.   Originally from Peru, she is a bi-lingual, stunningly capable dynamo who gives and gives and gives to others. The fact that I won my election to the Auburn Hills City Council by a landslide is a tribute to her capabilities.   She is also going through one of those life and career transitions that most of us have experienced.  They are always tough and it is easy, particularly for women, to forget how strong our wings truly are and how high we are capable of soaring.
Before the breakfast began, I asked our president, Oakland County Circuit Court Judge Joan Young, if I could take a few minutes to present the pin.  Judge Young and another officer, Troy City Councilwoman Mary Kerwin, urged me to also use the "pinning" to encourage every other woman in the room to find ways to pass her power forward, as well.  As you can see from the photo, the "pinning" turned out to be an emotional, memorable moment between "sisters."
Being inclusive doesn't end with simply being welcoming.
Leading inclusive conversations requires a new "language."
Get my new resource to help organizations like yours not just survive, but embrace these times of change & thrive.
FREE Language of Leadership Guide Book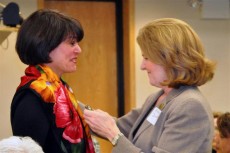 Sometimes it takes my breath away when I think about how far women have progressed in my lifetime.  At other moments, I stagger under the weight of how far we have to go to end the oppression and brutalization of girls and women throughout the world.  According to the Global Gender Gap Report, issued annually by the World Economic Forum, not a country in the world has achieved gender equity.  The Scandinavian countries are leading the way.  The U.S. has lost ground, slipping from 27th to 31st in the world on how well we divide our resources and opportunities between males and females.  What did they measure?   Economic participation and opportunity, educational attainment, political empowerment and survival.
Monday, March 8th is International Women's Day. I hope you'll join your sisters from all over the world this week to do something special to remind yourself and the women in your life what a powerful tribe we are.   There is a Chinese proverb which says "Women hold up half the sky."  Perhaps you've read Half the Sky, written by New York Times columnist Nicholas Kristoff and his wife, Sheryl WuDunn. It's a spectacular book about courageous women from all over the world who are examples of how we can turn gender oppression into opportunity. If you haven't read it yet, give it to yourself as an International Women's Day gift.  And then, pass it on to someone else – a man or a woman – who understands that the world will be a better place when we tap the full power of our feminine strengths and stand side-by-side with men, holding up half the sky together.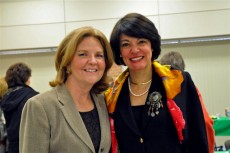 The next step, which I dream of achieving in my lifetime, is for women throughout the world to come together into a powerful, collective feminine force field.  That transformation will begin when we learn how to share and combine our individual power.  We must be the wind beneath each others' wings.  Otherwise, none of us will reach the heights we could achieve together.  You don't need a magical pin to lift another woman.  Pass your power forward.
PHOTOS BY MARGENE SCOTT, Thanks Margene!
About Anne: Anne Doyle is a Detroit-based leadership and communications consultant, former TV journalist and global auto executive. For more, check out her website — and blog.