My inbox is choking with urgent appeals. Write your Congressperson. Sign this petition. Forward this video. Send money.
Social media is atwitter with people shocked about the "Republican war on women." Or outraged at the Pence Amendment to defund Planned Parenthood and the move to eliminate the entire Title X family planning program that helps low-income women get health care and prevent abortions, for heaven sake.
The histrionics reach ever higher decibels, escalating shock and fear. From friends, I hear, "I'm speechless. What are we going to do?" From uninformed reporters, "But should taxpayers be forced to pay for abortion?" From frustrated activists: "We need to march."
Much as I hate to quote Ronald Reagan, "There you go again."
Ironically, Reagan threw this phrase at President Jimmy Carter who in a debate had made the case for national health insurance. That conflict still rages today, just like right-wing politicians and women's advocacy groups are still caught in a never-ending Kabuki drama about what on the surface appears to be abortion, but in reality is a much broader assault on family planning, birth control, and underneath it all, women and our role in this world.
No one can change that narrative but us, and we must do it quickly. The good news is we already know how and have the tools at our disposal.
For example, Women's History Month is about to begin March 1. Clearly we need to heed history's lessons. We've been here and done this so many times. We've seen the same kinds of attacks on Title X since its inception in 1970. And we've beaten them back just as many times. It's one of the most durable and effective government programs ever. And until and unless Obama's health reform plan covers the full range of preventive reproductive health services including birth control methods — an outcome far from guaranteed — the grant-based Title X program will remain a public health necessity for millions of women who lack health insurance and don't qualify for Medicaid.
You might feel outnumbered (though you are actually in the majority), or that you don't have the money or mainstream media access to be effective. So you must use what you've got, and believe me when I tell you that the resources you need are always there if you can see them and have the courage to use them. That's one of the "power tools" in my book No Excuses, and here are four more:
1. The power of your convictions. One of the most effective of the 9 Ways power tools is "wear the shirt." Let others know what you think. There's a personal pay-off too: I found in my experience on the advocacy frontlines that the fastest way to grow your courage muscles is to use them to stand up for what you believe.
2. The power of your voice. Blog it, baby. That's how the right whips up froths of controversy, makes it into the mainstream media, and scares the pants off politicians. When you blog on the topic, be sure to repost on social media of course, but to multiply your power, send it to your members of Congress, state legislators, and your local media. Turn it into a letter-to-the-editor or use parts of it to comment on other blogs. Make your voice big.
3. The power of your story. The nation has been riveted by two women who had the courage and grace to stand before their congressional colleagues (and C-Span) and reveal how the public policies being debated would have affected them personally. Rep. Gwen Moore (D-OH) told of her experience as a pregnant teen without even a dime to call for someone to take her to the hospital to deliver her baby.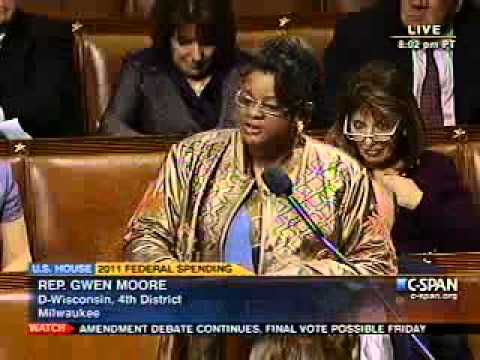 Rep. Jackie Speier's (D-CA) story of a medically necessary second trimester abortion got her anatomy wrong but her passion was right on what is needed to counter the right's lack of compassion.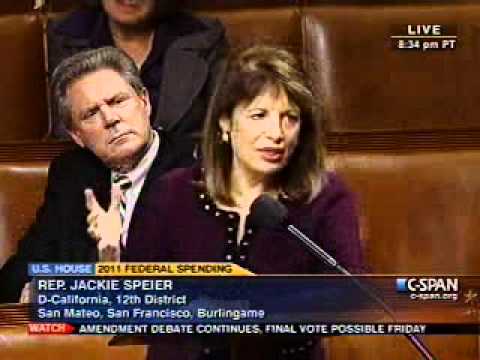 We all have stories. We need to share them, for they are a great source of power.
4. The power of the collective -— Sister Courage. Join with your blogging, tweeting, facebooking, tumblring sisters and like-minded brothers to create a citizen uprising of Egyptian magnitude. A virtual women's Tahrir Square.
In an unforgettable moment for me at the 1995 Fourth World Conference on Women, a group of African women told how they had made spousal abusers social outcasts rather than social norms. They banded together, took their cooking pots, stood outside of the homes of men who had committed violent acts against their wives, and banged loudly until the neighborhood took note and the men agreed to change their behavior. I never forgot that story of the power of Sister Courage and I guarantee you that collectively banging the pots will make a difference in political outcomes.
So send money, sure, and sign those petitions. But know that employing the power tools I shared will make you 10 times more effective. And emulate activists on the right: Don't wait till you're asked. Do something and say something whenever you see something.
As former slave Sojourner Truth, who left her master and became a leading orator for abolition and women's rights and a Methodist minister, once observed, "If the first woman God ever made was strong enough to turn the world upside down all alone, these women together ought to be able to turn it back, and get it right side up again!"
The next step is up to you.
Cross-posted at Blogher
GLORIA FELDT is the New York Times bestselling author of several books including No Excuses: 9 Ways Women Can Change How We Think About Power, a sought-after speaker and frequent contributor to major news outlets, and the Co-Founder and President of Take The Lead. People has called her "the voice of experience," and among the many honors she has been given, Vanity Fair called her one of America's "Top 200 Women Legends, Leaders, and Trailblazers," and Glamour chose her as a "Woman of the Year."
As co-founder and president of Take The Lead, a leading women's leadership nonprofit, her mission is to achieve gender parity by 2025 through innovative training programs, workshops, a groundbreaking 50 Women Can Change The World immersive, online courses, a free weekly newsletter, and events including a monthly Virtual Happy Hour program and a Take The Lead Day symposium that reached over 400,000 women globally in 2017.